Soupe Au Pistou
A good-for-you French stew
Low fat, flavorful — this soup will bowl you over. In France, where foie gras rules, this soup stands out: It's low fat and vegetarian.
This summer soup is a Provençal dish that is iconic for France.  It is made up of cubed vegetables with a tablespoon of pistou on top.  Pistou means "pounded" — that is, pound together the ingredients: garlic, fresh basil and olive oil….much like pesto as we know it here in the U.S.
The ingredient list is long, but the labor involved in making this soup is minimal.
To make the pestou you will need a mortar and pestle to grind and pound the ingredients together to make the topping for the soup.
Aubergine Antiques offers many styles and sizes of mortar and pestles – several are pictured below.  A must for any well stocked kitchen.
In your mortar and pestle you will pound the garlic and salt until it is a paste after which you add the chopped basil and lemon juice – stir in olive oil and then lastly, the tomato, topped off with pepper and Gruyere.  Mix well and taste to check the seasoning.
For the pistou
1
large clove
of garlic,
peeled
2
cups (40g)
gently packed fresh basil leaves
a few drops of lemon juice
1
small tomato; peeled,
seeded, and diced
1 1/2
ounces (45g)
 Gruyere
 cheese,
grated
In making this soup you will want to prepare and chop all the vegetables before starting to cook.  A good cook knows that preparation like this helps with time and staying organized with the recipe.
A good stock pot, nice utensils and cutting boards are a must.
All of these kitchen items can be purchased at Aubergines.  Call us to see what we have available.  251-928-0902
For the soup itself you will need the following:
2 tablespoons olive oil
½ cup shallots – finely chopped
½ leek – finely chopped
2-3 cloves of garlic
½ cup chopped parsnips
½ cup chopped carrots
3 new potatoes – diced
2 tbsp chopped fresh flat-leaf parsley
¼ cup dry white wine
1 can diced tomatoes, liquid drained
4 cups water
1 cup chickpeas, drained and rinsed (can use white beans if preferred)
a few tablespoons torn fennel fronds
3 1/2 oz green beans – cut into 3/4 in. pieces
1/3 cup fresh or frozen peas
½ cup dried quinoa macaroni noodles (optional)
salt, pepper, sugar (just a tsp. of sugar)
very finely grated zest & juice of 2 unwaxed lemons
After you have prepared and chopped all the vegetables – Heat the olive oil in a large saucepan over medium heat – add your shallots, leek & parsnips.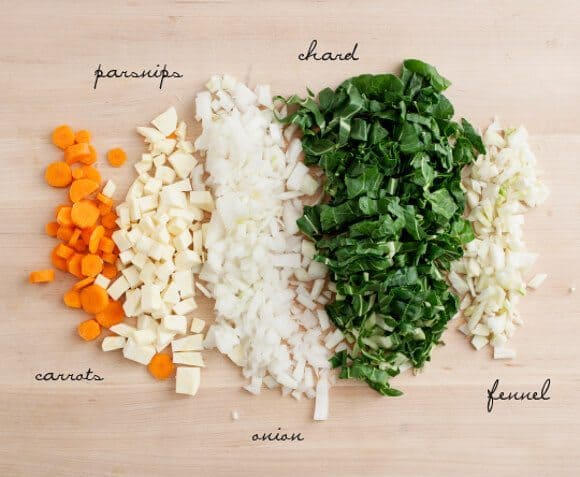 Cook until translucent, then add garlic and cook for just a bit longer.
Stir in the carrots, potatoes and tomatoes and let the flavors get familiar with each other prior to adding the water and a pinch of sugar – season with salt and pepper to taste.  Bring the water to a boil and then reduce to a simmer. Add your 1/4 cup wine. Cook for about 15-20 minutes.  Vegetables should be tender, but still have a little bite to them.
Now you are ready to add the chickpeas or other beans as well as the green beans – simmer 5 minutes more.  Add your peas, parsley, lemon zest & juice and half the Gruyere.  Stir very gently.  Cook for 2 minutes longer.  You may want to add your pre-cooked noodles at this point, but optional.
VOILA!! You have completed the French Soup Recipe!
Serve in bowls with a generous dollop of pistou on top and grated Gruyere on top of that – a drizzle of virgin olive oil rounds out the dish.
Or serve to the table with a lidded dish and let everyone serve themselves.  This crock is available at Aubergines.  251-928-0902
This Iconic French Summer Soup and many other recipes that we plan to share with you can be found in several of the cookbooks that we consistently carry at our Antique French culinary shop, Aubergines.
This particular dish was from The South of France Cookbook — with a little tweeking on my part – only because I enjoy changing recipes and making them palatable as my family likes!!
The pictures were taken at Aubergine Antiques or from Pinterest, etc.  Soupe Au Pesto:   www.davidlebovitz.com/soupe-au-pistou-french-vegetable-soup-recipe/
Au Revoir!  A La Prochaine!!