A French Wine, Chilled like Champagne?
PIQUEPOUL  White Wine
Every region in France has a special wine or champagne that it favors with certain foods.  Typically foods of the region are paired with appropriate wines from the area and favorite wines rise to the top.  Such as, Piquepoul, or Picpoul in English (pronounced peek-pool).  Piquepoul is a grape variety grown primarily along the Mediterranean coast of France west of Montpellier in the Languedoc region.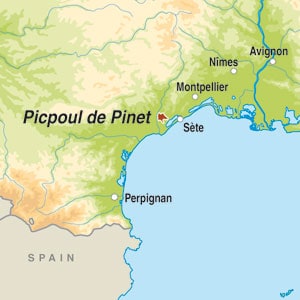 Piquepoul translates to "lip stinger".  Piquepoul is a white wine that is light and acidic with a clean, lemony flavor.  Piquepoul pairs perfectly with raw oysters and other fresh seafood and is sometimes referred to as oyster wine.
 Picpoul de Pinet is not only splendid with seafood and shellfish, but pairs nicely with traditional Mediterranean dishes, cheese and chocolate. It's best drunk young and cool (between 8-10°).  YES, the best way to serve this wine is very chilled like a champagne.
Remarkably, it is grown in an area that is known for oyster production, Bouzigues, France.
Picpoul, the perfect wine for summer!
You can identify a good bottle of piquepoul wine by its bottle.  They are always marked around the neck with a wave design.
As the weekend approaches and you're looking for a new wine to try… France is closer than you think.  Located directly next door to Crown and Colony Antiques, Red or White wine and gourmet center, on De La Mare Ave carries Picpoul.  Order by the glass or purchase a bottle.  Red or White 251-990-0003
Special thanks to Rob Fargason for contributing content for this post and providing many pictures from a recent trip to Bouzigues, France.
Au Revoir!  A La Prochaine!!