BISTREAU, from the French western dialect, meaning innkeeper.
A bistro or bistrot /bi-stro/, is, in its original Parisian incarnation, a small restaurant, serving moderately priced simple meals in a modest setting. Bistros are defined mostly by the foods they serve. French home-style cooking, and slow-cooked foods like cassoulet a bean stew, are typical.
The word may have originated from the Russian word bystro, "quickly". It entered the French language during the Battle of Paris in 1814.  Russian officers who wanted to be served quickly would shout "bystro".
Bistros likely developed out of the basement kitchens of Parisian apartments where tenants paid for both room and board.  Landlords could supplement their income by opening their kitchen to the paying public. Menus were built around foods that were simple, could be prepared in quantity and would keep over time. Wine and coffee were also served.
Within these bistro style restaurants/cafes are particular kinds of tables and chairs.  Tables are square, rectangular or round in shape and the chairs can vary in style.
THE BISTRO TABLE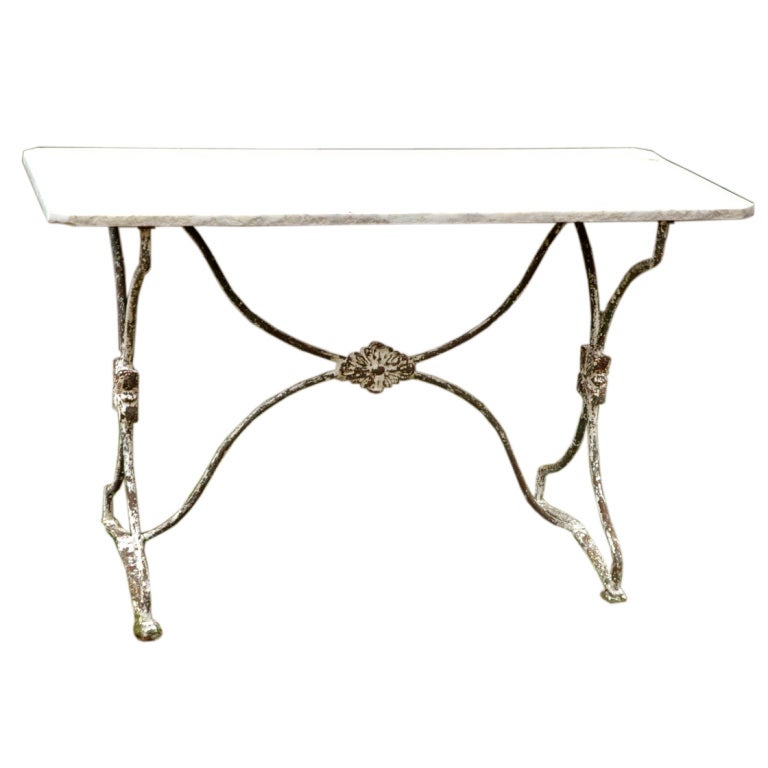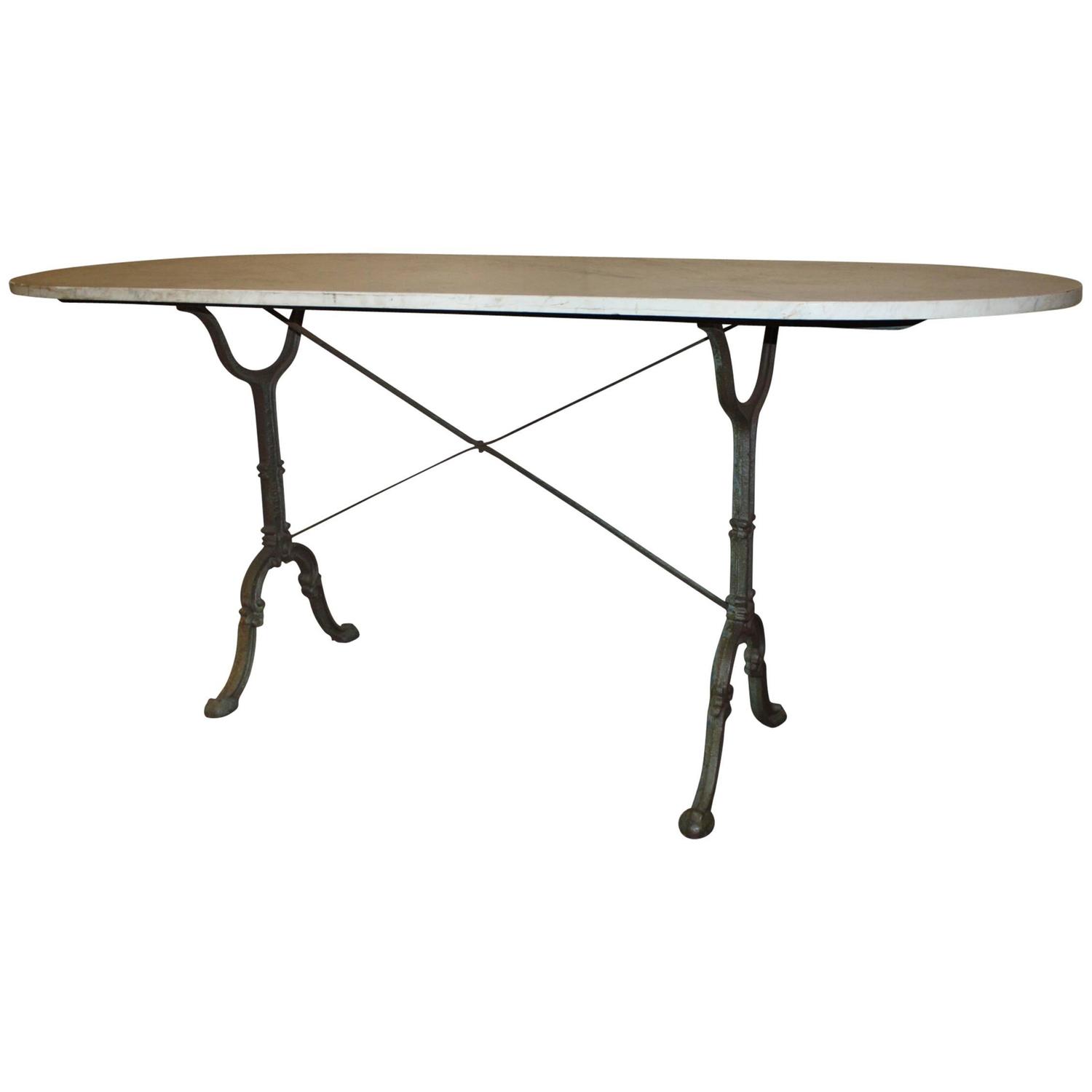 Bistro tables and chairs of Paris, created at the end of the 19th Century, were a godsend for the terraces of the small cafes (bistros in French) that were flourishing everywhere at the time.  RF Antiques, our antique garden and architectural shop carries beautiful cafe/bistro tables – large and small in size as well as varying types of bistro chairs.
Click on our link here and go to Garden Antiques to see our selection of cafe tables and chairs:
Fermob, the leading French manufacturer of outdoor metal furniture has developed its Bistro Collection from the original "Simplex" patent registered by a Mr. Edouard Leclerc in 1889.  A typical metal seven slate chair and folding table —  This has evolved into marble top tables that weather well and are easy to clean.  Many chairs we secure from France are wooden slated with metal frames and the tables can be completely metal or a combination of marble with iron bases.
THE AUTHENTIC BISTRO CHAIR
The Bistro folding chairs with two slats on the backrest and five slats on the seat and the Bistro folding tables with their crossed bases are the original versions.  However, many bistro tables were made did not fold up, but maintained their smaller in nature size for a table — enough for two to four people maybe five if someone pulled up a chair on the end.
Today a classic bistro is often times family owned with a simple menu in an informal setting and relaxed.  The dishes are usually made with fresh ingredients that have been produced locally. There is typically a small selection of wine and beer. A bistro will generally serve everything on the menu all day long rather than having separate lunch and dinner items.  Which allows you to grab a quick bite to eat or just relax with a drink.
FRENCH BISTROS
For anyone who wants a very old-fashioned experience, there's Le Quincy in the depths of the 12th Arrondissement Or bistrot De Valois — both authentic in atmosphere and food.
Le Quincy – 28 Avenue Ledru-Rollin, 12th Arrondissement, 011-33-1-46-28-46-76
FOOD CHOICES FROM LA QUINCY Cafe/Bistro and Bistro DE VALOIS
Stews, cabbages and varying selections of cheeses.
Bistrot Valois – 1 Place de Valois, First Arrondissement, 011-33-1-42-61-35-04
Our culinary shop, Aubergine Antiques, carries a wonderful little bistro handbook called Authentic Bistros of Paris — a must if you plan to travel to Paris to experience the flavor of the city.
AU REVOIR!  A LA PROCHAINE!!