Antique of the Month ~ Country French Buffet Deux Corps
The word "buffet" comes from 16th century France and referred to the manner in which food was presented on tables in a row.   A buffet is defined as not only the style of eating, but also the type of furniture from which the food is displayed.
The buffet was one of the most favored types of furniture for French homes, especially the buffet a deux corps, which allowed for ample storage of fine heirlooms and kitchen goods.  The name, buffet deux (two in French) corps is literally translated to "buffet with two bodies", which provided an ingenious type of storage and display case.  Since it could easily be split apart it was very easy to transport or travel with and deliver into homes through typical narrow doorways of past centuries.
 Our ANTIQUE OF THE MONTH:
The beautiful Buffet Deux Corps – This one found at RF Antiques  For information on this piece call (251) 928-8336                
The Buffet Deux Corps is considered Country French, however, this style doesn't refer to a period in French history, but to a way of life.  The skillful artisans of Normandie, France developed this distinctive look.  Furniture making flourished as early as the 17th century in this area, when Norman maritime commerce brought prosperity to the region.
Normandy countryside – Saint Céneri le Gérei, France
This area of France is not only notable for its "development of the French country style", but it is also known for its gastronomical and artistic contributions. These all together provide the foundation for that gentle, but elegant French lifestyle :  It is a place known for its pastries; the birthplace of brioche (a sweet bread), and it is a major producer of apple cider, as very little wine is produced in this region.
Claude Monet traveled here to paint and led the path for others to follow-His painting called Impression Sunrise painted at the harbor of LeHavre (upper Normandy) alone led to the movement of "Impressionism".
Like so many artists, bakers and cheese makers, attempting to capture the natural beauty of the region and the blessings of provincial life, the cabinet makers in the region remain renowned for elaborate carvings celebrating the same. Below is a fine example of the these carvings.  This piece also shows itself with doors closed and open to give you an idea of how ideal these pieces are for storage.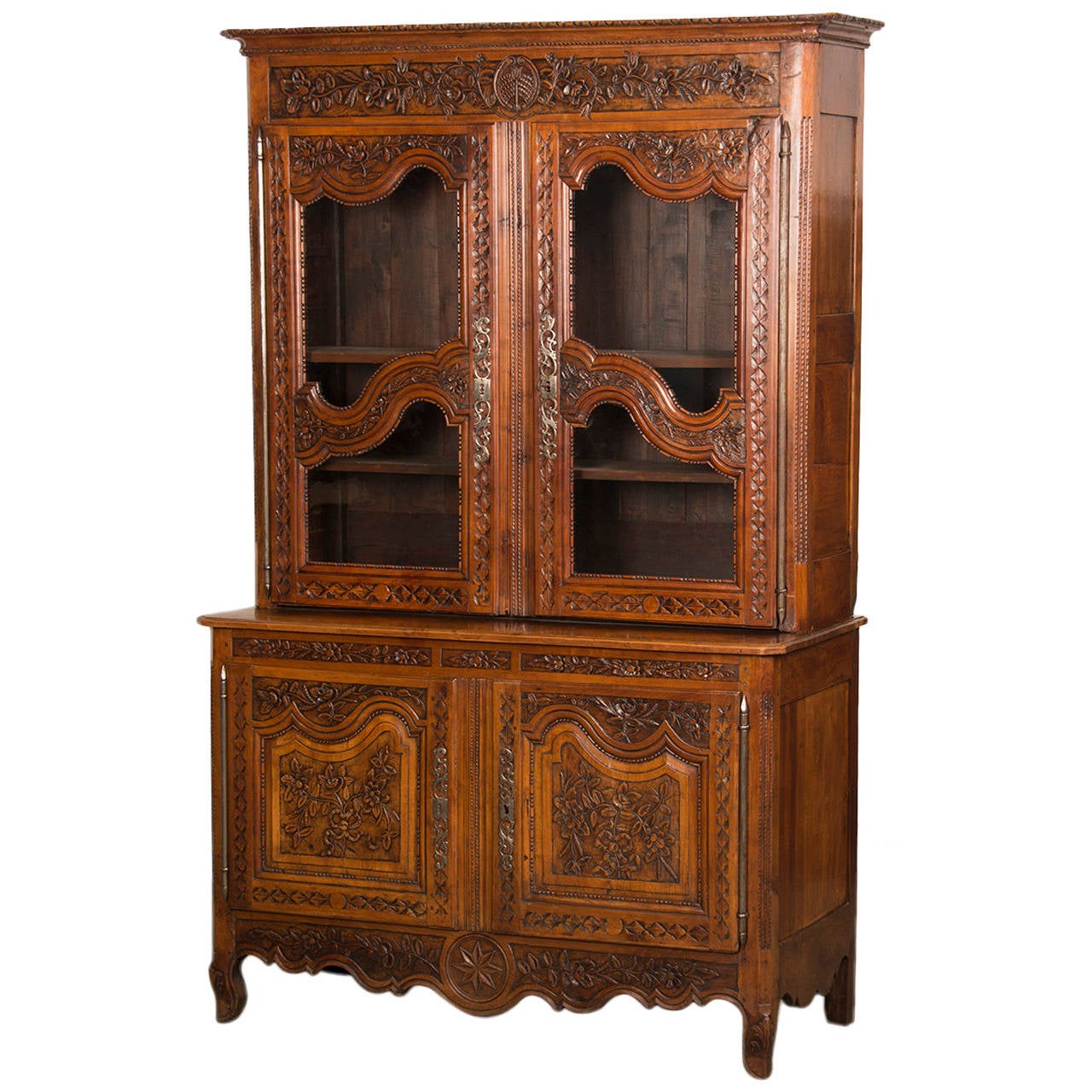 The inside of the top and bottom would typically have shelving.  The top portion might have solid panels or panels with glass where porcelain might be stored.  The bottom would have solid panel doors.  Linens, pottery, ciders, brioche and kitchen ware would be stored in the bottom cabinet.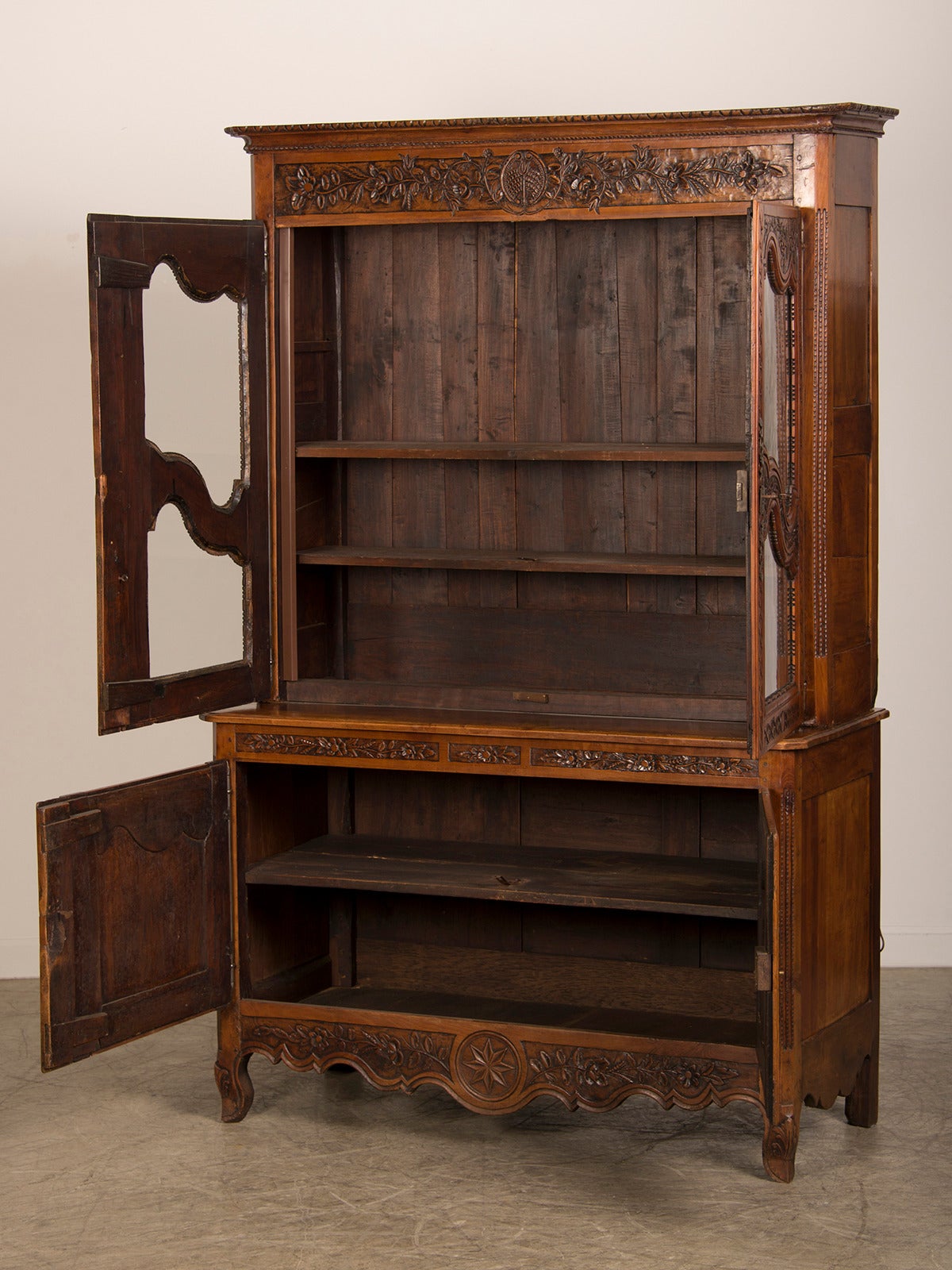 Buffets like these, being more ornate or casual in style, would have most always been used for storage in the dining part of the house – holding items needed while having a meal.
An example of a more simple casual style is pictured below.  It is a beautifully crafted painted Buffet Deux Corps.  This particular piece can be purchased from RF Antiques (251) 928-8336
These two storage pieces, smaller in nature,  would have possibly flanked an enfilade from where the food would have been served.  The Buffet Deux Corps below are available at Aubergine Antiques  (251) 928-0902
Many styles of this type furniture are purchased in Europe by the Fargasons for Aubergine Antiques and RF Antiques. Great care is put forth to select pieces that are not only beautiful, but also functional. Some pieces are walnut, some oak, some painted or washed – all unique and very French. The Buffet Deux Corps is a special piece to add to any kitchen, keeping room or other living area in your home.
And remember, furnishings such as this endure today and will continue to charm for years to come. These pieces exude comfort and warmth and add character and life to any room it calls home.
Au Revoir!! A La Prochaine!!