Decorative Elements – MONSTRANCES
Monstrances from France
What are these beautiful and mysterious objects?   The word monstrance comes from the Latin word monstrare, which means "to show".  First used in France and Germany in the 14th century, when popular devotion to the Blessed Sacrament developed.  They were the vessels intended for the exposition of the Blessed Sacrament and as celebratory displays of beauty.
Monstrances are usually elaborate in design; and were and often are still carried by the priest in a processional.  For portable designs, the preferred form is a sunburst on a stand, usually topped by a cross.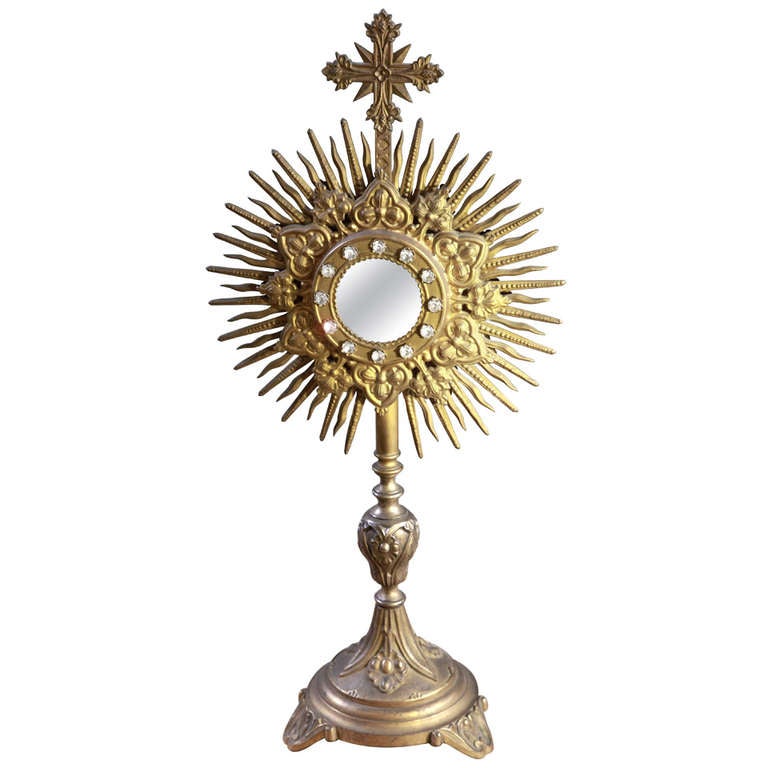 Others may be much larger fixed constructions.
Today, often times these monstrances are used in decoration of the home.  Here in this decorated room you can see a larger altar piece behind the sofa.  A beautiful way to bring a sense of peace and tranquility into the home.  While these items are welcomed in homes as "art" it is also important to give reverence to their original use.
Below, an element that could be displayed on the wall or on a coffee table, side table or bedside chest.  These type decorative items add interest to any room and are certainly conversation pieces.
A picture from Veranda magazine shows how to incorporate these type items into the home decor.
The display of a starburst type monstrance above a bed as a decorative feature is an alternative to a sunburst mirror.  Either, an interesting choice for a decorative focal piece.
Or, beside a bed as a beautiful adornment.
The particular piece below would be fabulous beside a bed on a nightstand.  This cross monstrance can be found at our RF Antiques location.  RF Antiques houses many of our antique architectural pieces which include items such as these as well as tabernacles and altar candlesticks.
251-928-8336
An altar piece that is beautifully displayed on a painted enfilade.
Crown and Colony Antiques carries a variety of shapes and sizes of these type elements.  They are difficult to find and only come in on occasion.  This last trip to France presented opportunities to purchase a few.  If an element such as this is what you desire for your home, contact us.
Crown and Colony 251-928-4808
Au Revoir!  A La Prochaine!!