Ring In Easter With Flying Bells, Bunnies and Chocolate Fish….
 Pâques (Easter) simply has to be one of the most enjoyable holiday celebrations for French children. Every single one of those eternally beautiful Parisian Chocolate shops kicks up their candy decorating to ultra high levels as Easter approaches. The Easter "chocolate season" begins weeks before the actual date. Giving chocolates to friends, family, and especially children is essential to a proper celebration of the holiday. Shop windows are chock-full of a festive menagerie including white, dark and milk chocolate rabbits, chickens, and eggs, bells and fish.  Yes, bells and fish!!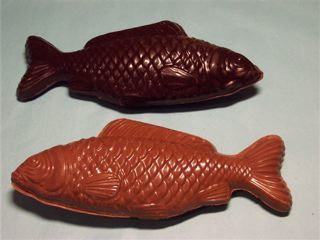 While seasonal chocolates are central to the many nationalities that celebrate Easter it seems that bells and fish are uniquely part of French Easter traditions.
Foiled covered chocolate fish and chocolate fish in little tins are always found in the children's Easter baskets.
The delicious candy fish are called Poisson d'Avril. Come Easter-tide, swarms of chocolate fish fill candy shop windows all over the City of Light. They come in varied sizes, some packed in shiny tin boxes holding small schools of fish all wrapped up in silver-blue foil. They are also sold unwrapped, by weight, in all their pure chocolaty glory.
Of course there is a story behind those fish and bells. Interestingly enough, the story behind Poisson d'Avril is both about Easter and about an April-Fools trick. Poisson d'Avril appear just before April 1st when mischievous French children stick paper fish on to the backs of as many unsuspecting adults as possible, then run away yelling "Poisson d'Avril!" The tagged adults, always graciously un-offended, respond by giving kids gifts of chocolate fish.   And so chocolate fish enter the Easter candy menagerie.
And what about the Bells?
 Cloche volants or 'Flying Bells' are another important symbol in the French Easter tradition. Traditional belief holds that on Good Friday all the church bells in France miraculously 'fly' off to the Vatican. In this tradition, French church bells do not ring from Good Friday to Easter morning. The bells carry all the grief of those mourning Jesus' crucifixion. These flying French bells then return to their steeples on Easter morning just in time to ring for the celebration of Jesus' resurrection.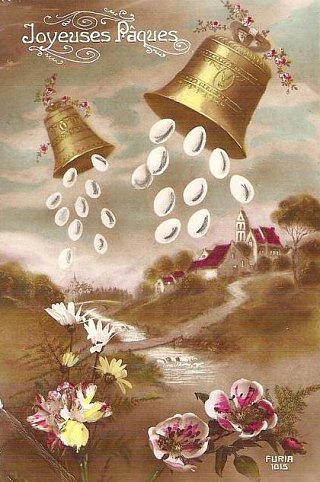 The bells also bring back chocolate and decorated eggs just in time for children to collect when they wake up on Easter morning.
French Easter Food
In the windows of shops you'll see the traditional chocolate eggs, bells & rabbits, but in the French home there is also the tradition of specific foods eaten at Easter.
The overlying traditional French Easter meal is typically lamb and also pork.   A French family as many Americans do, celebrates & eats the Easter meal at noontime.  The table is usually very lively, with pots of daisies and other spring flowers, green and yellow colors prevail. Many people use Easter eggs and special serve ware to also decorate the table.
The French majolica serving dish below may be seen at Easter.
The French also often make an edible 'Easter nest', which is simultaneously a decoration and dessert–shaped in puff pastry in the form of a nest, and stuffed with edible chocolate eggs.
Each region will have its specialties too: the 'lamala' (baby lamb) cake from Alsace, made in a special pottery cake mold only used at this time of year or the 'fouace' bread -a sweet brioche- from the southwest of France.
Lamala
Aubergine Antiques carries  authentic French cake molds in the shape of lambs and also at times chocolate molds.  Lamb molds in stock now. Call us if you are interested (251) 928-0902
Simple brioche 
And, so there you have a little peek into the lifestyle of the French at Easter Time.
Joyeuses Paques!
Happy Easter
Au Revoir!  A La Prochaine!!