FAUX BOIS
Faux Bois  means "false wood" and the technique is a great example of an old world craft.  It refers to the artistic imitation of wood or wood grains in various media.
Faux Bois was particularly popular in the late 19th century through the 1940's.  Its emergence can be seen in garden ornaments such as
birdbaths,
benches and planters….
Chairs and small side tables….
  Often times the items are made of steel and then wrapped in concrete reflecting the appearance of wood.  Some faux bois pieces are made in other ways.  In France an artisan may be called a "rocailleurs".  This artisan may use common iron materials: rods, barrel bands, and chicken wire as the foundation to mold the piece applying concrete on the outside to build and develop the shape.
Early examples of the craft survive at Parc des Buttes-Chaumont opened for an exposition in Paris in 1867.  In 1873, the inventor of ferrocement,
(Meaning: a system of reinforced mortar or plaster, lime or cement, sand and water applied over layer of metal mesh, woven expanded-metal or metal-fibers and closely spaced thin steel rods such as rebar)
 Joseph Monier 
expanded his patents to include bridges. He designed the first bridge of reinforced concrete, crossing the moat (picture below) at the Chateau Chazelet, in France. It was sculpted to resemble timbers and logs.
Image by Bernard Marrey – Editions du Linteau, Paris
Photo below by Arjandb – own work -Bridge with faux bois railings at Soestdijik Palace.
In the 14th arrondissiment around Paris is the Parc Montsouris rail guard 
Another Faux Bois example are tables and chairs at our RF Antiques shop on Church Street in Fairhope, AL
Faux Bois table top with Corinthian pedestal base and staddle stone seating that look like mushrooms add interest to this outdoor setting.  This table and seating is currently available at RF ANTIQUES 251-928-8336
AVAILABILITY OF FAUX BOIS IN THE UNITED STATES
Diane Husson has a fabulous site that shows the ambitious person how to build a faux bois piece from start to finish — Below we show an overview of the process from her site:  www.fauxboisfurniture.com
To begin you must FIRST find an inspirational vision or sketch:
SECOND:  Gathering your rebar and weld the armateurs of the tree table
THIRD:  Covering it in Lath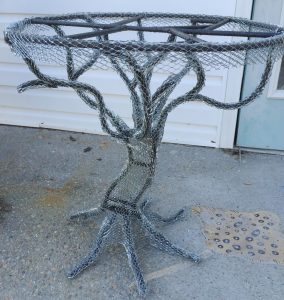 FOURTH:  Applying the structural coat
FIFTH:  Applying the design and detail of coloring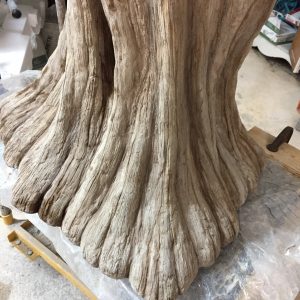 Diane Husson is a concrete sculptor specializing in the design and creation of contemporary faux bois benches and other faux bois furniture and accessories. She lives in Norfolk, Virginia.
RF Antiques imports Faux Bois from France – when exceptional and interesting pieces can be found- but, there are many companies all over the US that specialize in this special furniture.  For example Castapp.co is a company to contact for functional furniture in Faux Bois such as the chairs below.
Another wonderful artisan, Michael Fogg, creates beautiful Faux Bois pieces
 Faux Bois objects claim their own gentle presence in any space.  Experience this look with a purchase from RF Antiques – Faux Bois at exceptionally reasonable pricing.
  Call us to check availability 251-928-8336
Au Revoir!  A La Prochaine!!
NOTE:  thanks to all internet contributors, websites for faux bois, 1st dibs and pinterest – the use of any picture not ours used in this  blog are used for informational purposes only –