FRENCH ART and how one French woman contributed to history….
THE MONUMENTS MEN
Ghent Altarpiece
Did you know that during World War II, the Nazis executed the greatest art heist in history?  It was left to a special Allied military unit, the Monuments Men,  to get Europe's priceless cultural treasures back.
An organization with established initiative beginning with President Franklin D. Roosevelt and with General Dwight D. Eisenhower repeatedly ordering his forces to assist the MFAA (also known as Monuments Men) as much as possible, it was the first time in history an army attempted to fight a war and at the same time reduce damage to cultural monuments and property.
ADOLF HITLERS ORDERS
 Before Adolf Hitler became the German dictator that he was he had a much different passion and that was ART.  But after Vienna's Academy of Fine Arts rejected a teenage Hitler for his "unfitness for painting," his singular dream of becoming an artist was crushed.
The Academy in Vienna
Hitler's interest in art never waned which became evident when he led the Nazis in a very deliberate systematic looting of famous works of art.  His goal was to not only rob millions of people of their lives and futures, but wanted to strip them of their past as well.
Hitler's forces plundered priceless paintings, sculptures, drawings, religious relics and cultural artifacts from all over Europe (France, Poland, Italy and so on).  His loyalists went into churches, private homes, universities etc and collected everything of value.  He was especially committed to collecting art from Jewish families.  He acquired musical instruments, entire libraries, Torahs, church bells and stained glass right out of the Strasbourg Cathedral.
However, with the foresight of a French woman named Rose Valland and the establishment of the Monuments Men, a group of approximately 345 men and women from fourteen nations comprised of museum directors, curators, art historians, archivists, architects, educators, and artists that served with one common goal: to save cultural treasures from the destructiveness of war, and theft by Adolf Hitler and the Nazis.
Rose Valland ( 1898 – 1980 )
The unassuming heroine of French culture during World War II, Rose Valland was born in Saint-Étienne-de-Saint-Geoirs, France on November 1, 1898.   She was extremely well educated in art with degrees from École des Beaux-Arts in Lyon, the École des Beaux-Arts in Paris and advanced degrees in art history from the École du Louvre and the Sorbonne in Paris!
In 1941 she became curator of Jeu de Paume Museum in Paris.  In 1942 the Nazis over took the museum and made it their headquarters for ERR, the Nazi art looting organization created by Hitler.
This organization stored paintings and other works of art stolen from private French collectors and dealers.  Jacques Jaujard, Director of the French National Museums including the Louvre, immediately instructed Valland to remain at her post in the museum to spy on the Nazi theft operation.  What she did in addition to that is the reason many pieces of art are back with their rightful owners today.
Her quiet demeanor kept her under the radar and unsuspected as she carefully and secretly kept meticulous notes on the destinations of train car shipments filled with looted art from all over France.
What the Germans also did not know was that she spoke the German language allowing her to gather critical information from the conversations of drivers, guards, and packers, which she relayed to Jaujard and the French Résistance.
Paris was liberated by the American forces late August 1944 – this liberation placed Valland in an even more serious situation because of the enormous amount of information she had collected that was in her personal possession.
The information she collected would serve as a treasure map for Capt. James Rorimer, with the Monuments Men, who had orders to recover as much stolen art as possible.  Her information would serve them in finding multiple repositories of looted art in the Neuschwanstein Castle in the Bavarian Alps — All of which was stolen by the Nazis from private collectors and art dealers in and around France!!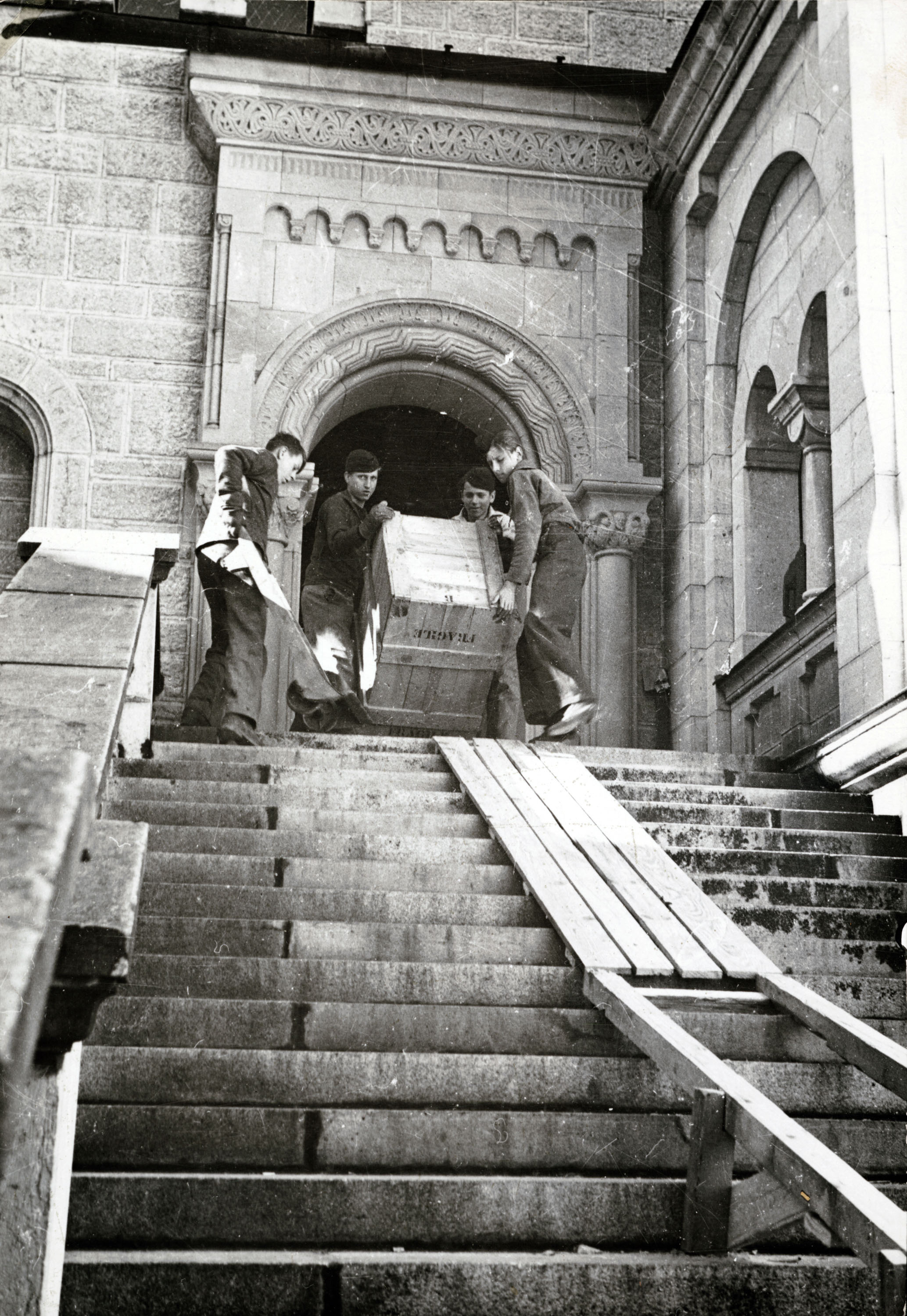 Thousands of pieces of art were also found in copper mines and salt mines.
The notes of Rose Valland alone were instrumental in expediting the restitution process of returning objects to their rightful owners with well over 5 million pieces being returned to their rightful owners.
"Art belongs to humanity. Without this we are animals. 

We just fight, we live, we die. Art is what makes us human".
– Mikhail Piotrovsky, Director, Hermitage Museum 
A MUST SEE MOVIE for enjoyment:
our poetic license [was] we wanted to let these guys have some flaws and have some fun. … Listen, the good news is, 80 percent of the story is still completely true and accurate, and almost all of the scenes happened. Sometimes they happened with other characters, sometimes it happened in smaller dimension. But that's moviemaking. -George Clooney (Entertainment Weekly, August 12, 2013)
A modern day movie based on some events of the Monuments Men:  History Vs. Hollywood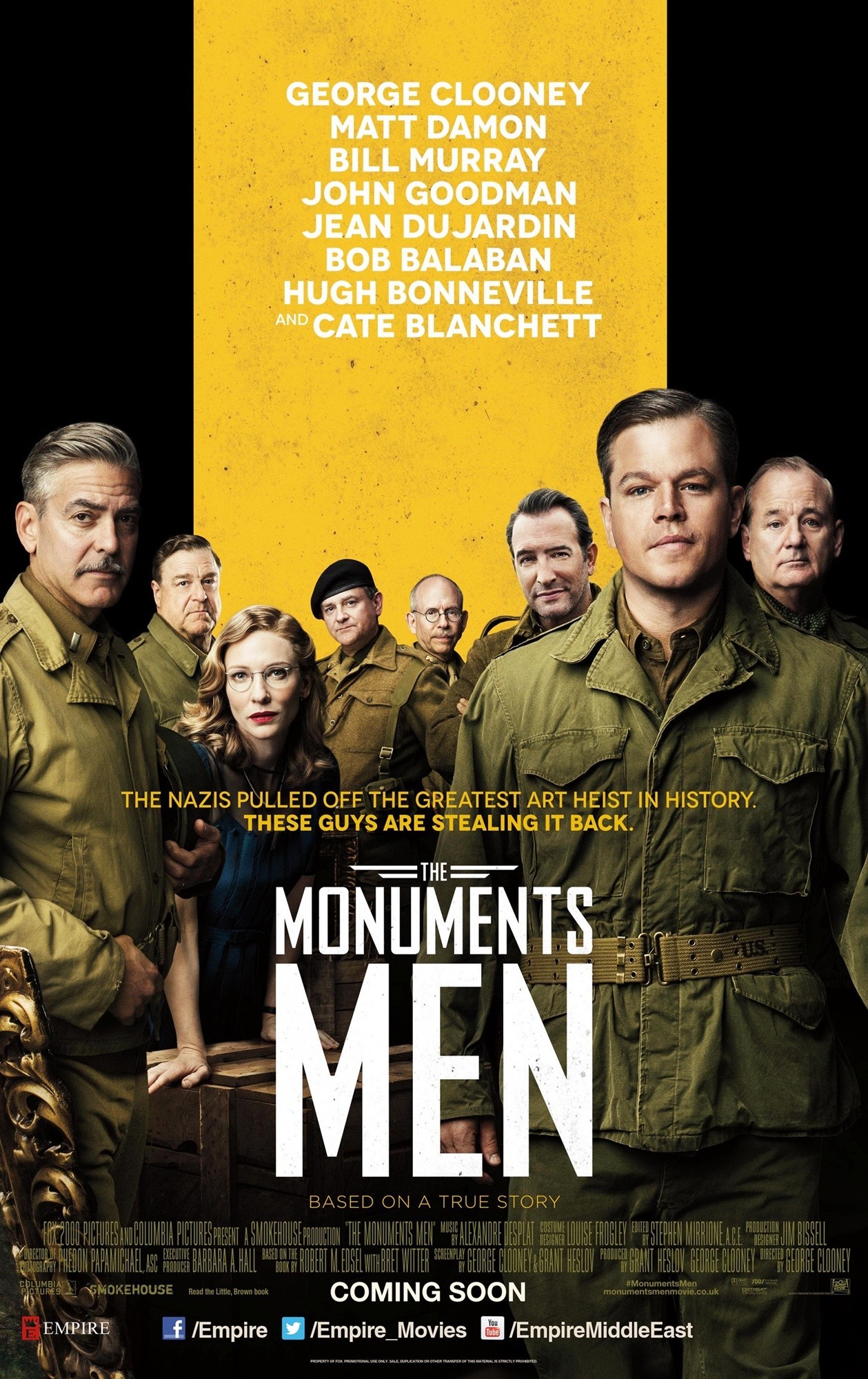 WE GIVE THIS FIVE STARS!!!
If you love art, have an appreciation for history and enjoy preservation – please, we invite you to visit our website:
 https://www.crownandcolony.com
and view our French paintings and architectural elements (click on Paintings and Decorative Accessories)  Purchases can be made through Crown and Colony  251-928-4808
**Any pictures depicting this historical remembrance were borrowed from internet sites for educational purposes only and we thank all who generously make these available for us to learn from**
Au Revoir!  A La Prochaine!!