The French BuffetBuffets, credenzas and sideboards share a similar purpose in the dining room. These three pieces of furniture are all similar in function and appearance, and the terms are used to describe furniture used for serving, storage and display.
Certain defining characteristics may help distinguish one from the other, but in many cases, the furniture won't feature all these elements. What really makes each piece different is its history.   This type of furniture is versatile enough that is is not always used in the dining room, making it a practical purchase.
The Credenza
What distinguishes a credenza is a long, low profile, narrow cabinet with multiple storage compartments and a flat top. Usually made from wood, credenzas originally had no legs or feet; instead, they were just cabinets that rested directly on the floor.
Historically, credenzas played an important role in the dining quarters of kings or high-ranking noblemen. The word "credenza" is the Italian equivalent of "credence," or "truth," and the food placed on the piece had to be taste-tested to ensure it wasn't poisoned.  A food taster 
was the person who ingested the food which would be served to confirm that it was safe to eat. One who tests drink in this way was known as a cupbearer.
The Buffet
The French term "buffet" translates literally as "sideboard." The word is also closely associated with a self-serve meal spread out buffet-style on a long, narrow table. The origins of the buffet table go back to 16th century Swedish schnapps tables holding the pre-dinner spirits. By the 18th century, schnapps tables evolved into the smorgasbord table, in which food and drinks were laid out for guests. Buffets typically have some type of cabinets or drawers for storage and a flat surface for food and decor.
THE SIDEBOARD
The long, narrow profile of a sideboard makes it practically identical to a credenza and a buffet.  Sideboards  comprised of cabinets and, sometimes, drawers. When a sideboard has legs, they tend to be shorter and thicker in size like the one pictured above. Sideboards were first used in late 18th century England, when designer Robert Adams constructed a three-part dining ensemble that included an oblong table centered between two pedestal cupboards resting on urns. The sideboards displayed the finest serving ware in the household, typically silver and fine china.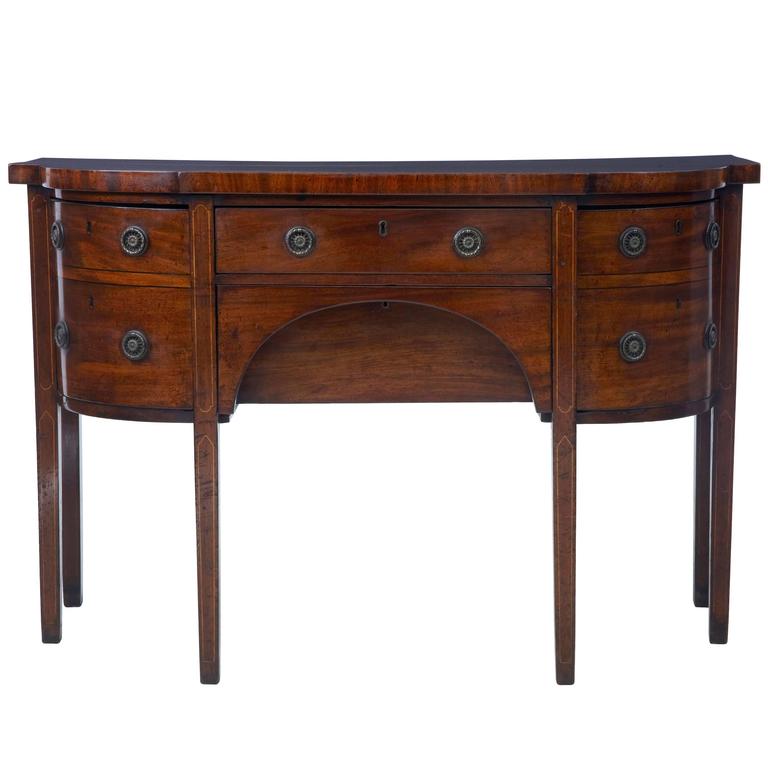 Our French culinary shop, Aubergine Antiques, carries many many styles of "enfilades" (the French word for buffet or sideboard) as does our garden and architectural antique shop, RF Antiques, and our hub shop Crown and Colony Antiques.
Please visit us online to have a first viewing of our selection and then come visit us to see in person!!  https://www.crownandcolony.com
Visit the website through the link provided and then click on Buffets & Sideboards and for NEW CONTAINER items, click on What's New.
We just received a NEW FRENCH CONTAINER.  Our shops are filled with not only sideboards, but all sorts of wonderful antiques at EVERY price point.  Please make it a point to visit us before the holidays.  Let one of our qualified employees assist you with making the perfect purchase.
Au Revoir!  A La Prochaine!!