Champagne and Flutes
For centuries, the great moments in life have been punctuated with champagne—French champagne.  But those moments also call for a special glass from which to drink this beverage!
To begin:
Wines from a certain region in France were known before medieval times. Champagne is a specific sort of sparkling wine made in the Champagne region of France, and legally, only wines from this region made with the Méthode Champenoise qualify as champagne.  The Romans were the first to plant vineyards in this area of north-east France, with the region being cultivated by at least the 5th century, possibly earlier. Later, churches owned vineyards and monks produced wine for use in the sacrament of Eucharist.
Monk Dom Perignon has been noted as the father of champagne! Dom Pérignon was the entrepreneur of champagne – He made it happen!
 He was a bubbly enthusiast and tinkerer who made several important contributions to champagnes current quality. These include perfecting the blending of still wines before secondary fermentation and the introduction of the cork.
He is noted to have said, "Come quickly, I am drinking the stars" when he founded Champagne.
In Dom Perignon's picture above he obviously didn't know that the really proper way to open a bottle of champagne is to do it with a whisper – all the best culinary schools teach this (of course this might not have the vigor and fun of just "letting the cork fly" over everyones head, so to speak – but, the bottle is to be softly opened).
How To Open a Bottle of Champagne
The only tools you need for this are two thumbs and a kitchen towel.
There's a lot of pressure pent up inside that bottle of champagne! That is why many champagne bottles have foil and a wire cage around the cork so there is no chance of the cork "popping" prior to its intended use.
Getting the cork OUT is not the problem, it's controlling the cork!  One wants to e-a-s-e the cork out as slowly and gently as possible and "Catching the Cork" becomes less tricky when you use a towel.
Why You Need a Towel
This towel is not for wiping up the spills, it is for controlling and grabbing the cork as you ease it out. Drape the towel over the bottle and hold it securely against the neck, but leave a bit of an air pocket so the cork has room to move. The towel assists in maintaining a firm grip on the cork and also catches it once it's released from the bottle.
And there you have it  –the Champagne should whisper when it opens!" When sparkling wine is opened properly, just the barest puff of effervescence should be heard, a mere whisper, when the cork is pulled.
Now that you have the champagne bottle opened – What do you pour it in that would match the expression of the celebration?
The Champagne Flute perhaps — These are champagne flutes from France that are in abundance at Aubergine Antiques, our French Culinary Shop, in downtown Fairhope, Alabama.
The champagne flute (French: flûte à champagne) is a stem glass with a tall, narrow bowl, generally holding about 6 to 10 US fl oz of liquid. The champagne flute was developed in the late 1700s and was preferred for this beverage  because the flute, with its deep bowl, allowed for a greater visual of the bubbles rising through the liquid to the top!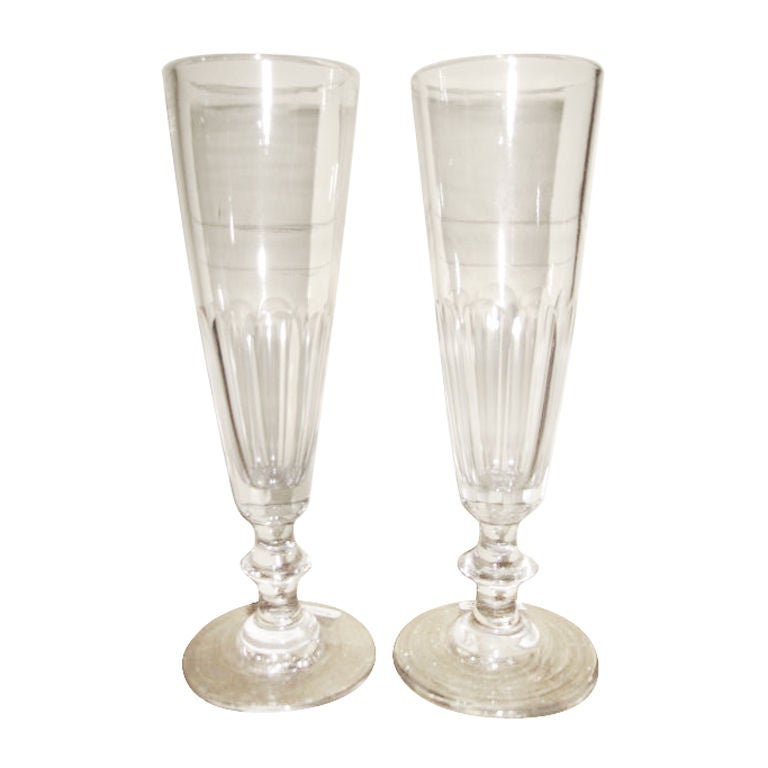 Even though the flute is synonymous with champagne, it was thought that before the flute  arrived on the scene, the coupe was the go-to glass for champagne. This coupe is more of a petite bowl or saucer – legend has it that the coupe glass was molded from Marie Antoinette's left breast, and that she wanted her court to toast her health by drinking from glasses shaped like her bosom!!  Speculation of course!
Below are perfect examples of a coupe style glass.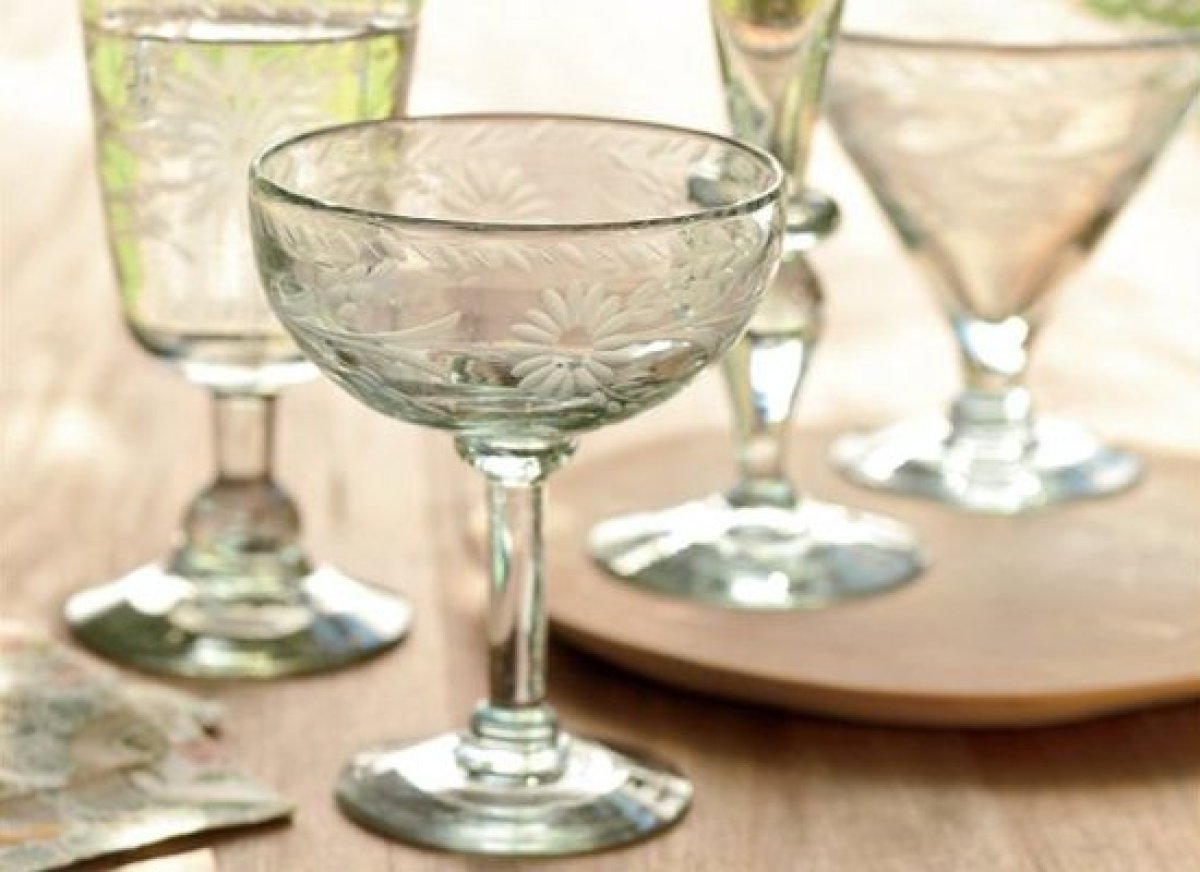 (image credit to some of the photos -Faith Durand & thekitchn.com)
More flutes below from Aubergines- Call us if you need to reserve a supply 251-928-0902.   The Thanksgiving Holiday and Christmas Holidays (including NEW YEARS EVE) are literally upon us.  These flutes are always so nice to have on hand for a special toast during that time.
Even when flutes are similar, but have slight variations in width, height and perhaps etchings — An assortment looks divine served on a silver platter all full of bubbly!  Some glasses have a wider bowl, but not as wide as the coupe — these can be used for wine or a mix of Champagne and orange juice called a Mimosa.
Ingredients for a MIMOSA
2 oz. orange juice

4 oz. champagne of your choice

Directions:  Fill champagne flute 2/3 full (or 1/3, for Anglophiles) of fresh-squeezed orange juice & top with champagne
Champagne is the drink of choice at many celebrations – weddings, births, christenings, anniversaries, birthdays, holidays all year long – all symbolic of a joyous occasion that warrants a toast.  As well, the champagne glass is often raised to commemorate a very special person…
Our glasses this day are raised to C. Fargason  – in memoriam.
Au Revoir! A La Prochaine!!