PRAYER CHAIR or PRIE DIEU
A prie–dieu (French: literally, "pray [to] God", plural prie–dieux) is a type of prayer desk primarily intended for private devotional use, but may also be found in churches. … The prie–dieu appears not to have received its present name until the early 17th century.  It is intended to be knelt on where one can place a book or their elbows for prayer.
french louis xiii style prie dieu prayer desk in oak
Prie-dieux may be provided in church weddings for the bride and groom to kneel on during the service, or may be used by a cleric when he leads those worshiping in prayers such as litanies.
In the Byzantine Rite, a prie-dieu is provided for the bishop when he kneels in the Holy Doors during the consecration of a church. One may also be used by the priest reciting Kneeling Prayers at Pentecost (which is the Christian festival celebrating the descent of the Holy Spirit on the disciples of Jesus after his Ascension, held on the seventh Sunday after Easter.  It is also the Jewish festival of Shavuoth).
As we prepare for Easter (Paques) Day we are reminded that Lent is a time of repentance, fasting and preparation for the coming of Easter. It is a time of self-examination and reflection. In the early church, Lent was a time to prepare new converts for baptism. Today, Christians focus on their relationship with God, often choosing to give up something or to volunteer and give of themselves for others.
The Prayer Chair is a personal way to quietly pray and reflect.  Having a special piece of furniture specifically made for prayer elevates the importance of prayer.
Below is a "demi loon" (referring to the shape) style Prie Dieu
They are often times used at the funeral service.  Note the Prie Dieux used in the room where John F. Kennedy casket laid in state in 1963.
Crown and Colony Antiques typically carries more than one Prie Dieu at any given time.
There are many styles of the "prayer chair", but all have the elbow rest so as you kneel you can rest your elbows on the back rise.  Prie Dieux range from very primitive with no cushion for the knees and elbows to very ornate needlepoint with some being personalized with monogrammed initials for the individual either in the wood or the fabric.
A French ebonized Prie Dieu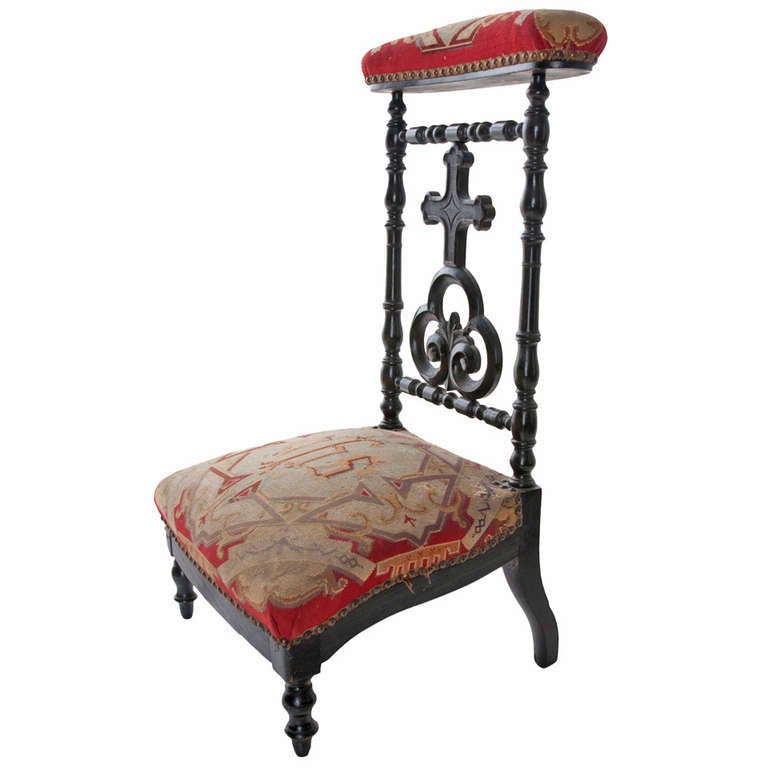 French Aubusson Tapestry Prayer Desk Stool (Prie-Dieu) c. 1860
The Prie Dieu is a lovely accent and conversation piece to add to your home – to be used or "just to have" as an architectural element that adds interest to a room.
Please call us to see what we have in stock.  251-928-4808
Au Revoir!  A La Prochaine!!
–these pictures other than our own are used to educate our readers on the use of the prie dieu