Aubergine Antiques-A proud carrier of French Salt.  Call us for more information about purchasing 251-928-0902
 The Guerande salt marshes and their history:
The Guérande salt marshes are located in southern Brittany, a region in north-west France, between the mouths of the rivers Loire and Vilaine, along the Atlantic Ocean. They form a very large wetland zone, stretching for nearly 5,000 acres.
 Salt harvesting in this region began in the year 868!
    For centuries, salt workers have been the heirs to and guardians of a  unique heritage. A salt worker is a magician: he takes a drop of water and                                       extracts a grain of salt.
   Centuries old traditions for harvesting Guérande salt have not changed;           the salt workers, called paludiers traditionally use the tides and   three types of ponds to gather salt, harvesting daily in a wet environment.  
All of this is done without machinery.  Though certain elements of the harvest      have been modernized, Guérande salt remains unique in not only its          geographical and geological location, but also of the traditions still      honored by those who collect it.  

Sel de Guérande is renowned for being

                     

100% natural, unwashed and without additives

. 
   The salt from Guerand is still harvested the same way they have for    thousands of years—It's one of the reasons why it meets the criteria of         France's Nature et Progrès, the most rigorous salt certification in the                                                          world. 
       The Guérande salt marshes and mulons (mounds of extracted salt)
Every 30 years the marshes are drained, cleaned, and the argile (clay)                             gets replenished to begin the process again.
Harvesting Guérande Salt
In summer, at each high tide, sea water is carried by "étiers", or channels to fill the vasière (the first evaporation pond on the circuit, which acts as a reserve between tides) with seawater. The "vasière" also acts as a settling pond in which particles in suspension, carried by the sea, will be deposited and separated.
A slight, but constant change in water levels allows the water to flow into the evaporation ponds which act as a reserve, supplying the final set of ponds or oeillets.  The salt worker must carefully adjust the water levels in the various ponds in order to harvest the fruit of his labor, the famous Guérande salt. These ponds are known as the "cobier", "fards" and "adernes". When the salt vs. water reaches a certain concentration only then does the salt crystallize and is left behind once the water evaporates by sun and wind. It is in these final ponds that the salt is scraped and harvested.
The two kinds of salt:
Depending on the way the salt crystals are harvested, two kinds of salt can be produced: The "Flower of salt" and the "Guérande coarse sea salt."
 Aubergine Antiques 251-928-0902 our culinary shop carries  wonderful French Salt-Many people purchase the salt to add with their beer.  Salt is a natural flavor enhancer and you are able to taste the hops and malt more by adding a bit of high quality salt.  Aubergines also carries French glass ware used for beer.  Below is Le Saunier De Camargue/Fleur de Sel found at Aubergine Antiques.  A very fine and wonderful salt from the South of France.
Flower of Salt
"Flower of salt" is harvested in the Guérande salt marshes, late in the afternoon during very dry weather. Under the combined effect of the sun and a dry east wind, a fine skin of crystals forms on the surface of the œillets. This skin, which is a pure white as it has never touched clay, is carefully gathered by the salt workers using a special rake known as the lousse à fleur.  Fleur de sel or flower of salt in French, is a hand-harvested sea salt collected by workers who scrape only the top layer of salt before it sinks to the bottom of large salt pans. The special weather conditions and the small quantity produced make it a rare and popular product.
This is salt you sprinkle with your fingers because its crystals are too large to pass through any ordinary salt shaker. It's not designed to salt food, but to flavor it.
– 
In the last few years, flower of salt has gained a celebrated reputation among food lovers. Very white, with fine, snow like crystals and a very slight hint of violet, it enhances meals by bringing out the taste of even the finest dishes. Only a small amount should be used on raw or cooked food.  Fleur de sel is a 'finishing' salt.
Guérande Coarse Sea Salt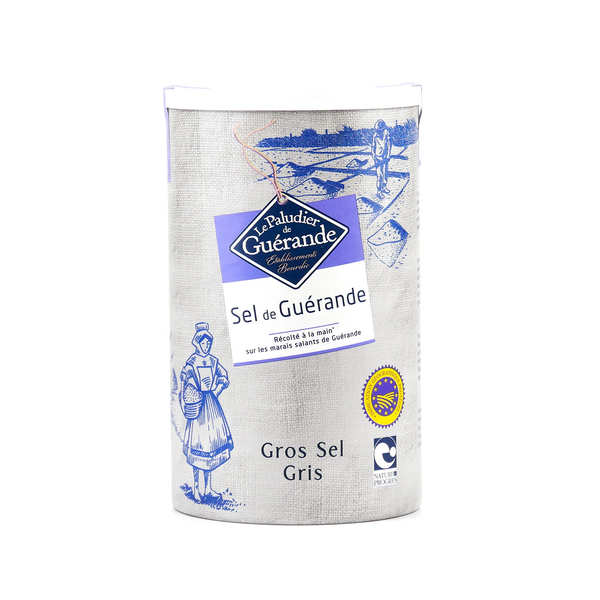 Guérande coarse sea salt (sel marin) has always been hand-harvested       using traditional methods and is well known for its culinary virtues. It is    naturally gray, and it crystallizes on contact with the clay from which it      takes its high trace element content. Less salty than Mediterranean salt,    Guérande salt is softer on the palate and richer in flavor, which makes it    the salt preferred by cooks for salting stocks, the water used for cooking        vegetables, as well as for barbecues, meat, and fish cooked in a salt               crust. Unwashed, unrefined and additive-free, it adds flavor to                                                 traditional family cooking.
Coarse salt is harvested every day in summer when the weather is mild with both wind and sun on the Guérande peninsula. In the late afternoon, under the effect of evaporation, the salt crystallises and is deposited on the clay in the œillets. The salt worker uses a wide wooden rake known as a las to push the salt to the edges of the pond. He then pulls it on to the ladure, a round platform made of clay, where it is left overnight to drain. The next day, the salt worker uses a wooden wheelbarrow to carry over 130 pounds of salt per œillet to a large stockpile of salt, known as a mulon.
The Guérande salt is neither treated nor refined and is very rich in  magnesium and trace elements. Therefore, the flower of salt and the coarse sea salt (used as coarse salt or crushed in fine salt) are ideal for                      every type of use in the kitchen and on the table.
In March 2012, the salt of Guérande and the flower of salt of Guérande obtained their IGP (Protected Geographical Indication), which guarantees the origin and quality of the salt and the flower of salt from Guérande. It      is the first time this distinction has been granted for a salt in Europe.
One can use these special salts on vegetables, like on the snap peas    pictured or as a palette teaser to a sweet treat like mixing caramel with                                                      salt on top!
          Snap peas are even tastier with a sprinkling of fleur de sel.
Interested in Visiting the Guérande?
                             Four hours and 10 mintues from France.
Terre de Sel
(Guided visits of the marshes, in French. Call for hours, reservations and tours in English.)
Route des Marais Salants
Guérande
Tél: 02 40 62 08 80
Maison des Paludiers
(Film and indoor discussion of salt harvesting. No reservations required.)
Saillé (near Guérande)
Tél: 02 40 62 21 96
Two Local Guests Houses:
Chez L'Habitant
50 Boulevard de Lauvergnac
La Turballe
Tél: 02 40 23 32 18
Les Close des Pins
Route de Méliniac
La Turballe
Tél: 02 40 23 33 69
For Dining:
(Moules-Frites, Crêpes, and Seafood)
L'Escale
Port de la Turballe
La Turballe
Tél: 02 40 62 82 81
Spicy Roasted Chickpeas with Guérande Sea Salt
This will make 2-3 servings – What you will need:
2 cup chickpeas / garbanzo beans in a glass jar or dried soaked over night
1 tbsp Sel de Guérande
A drizzle of Olive oil
Spice Mix:
¼ tsp of ground garlic
¼ tsp of ground cumin
¼ tsp of cayenne pepper
½ tsp of black pepper
½ tsp of paprika
½ tsp of rosemary
Step 1:
Preheat oven to 200°C.
Step 2:
You will need to drain the chickpeas and wash thoroughly. Lay your chickpeas on a tray covered with kitchen roll and roll the beans gently with the palm of your hands. This should get rid of the skin which is very hard to digest –Line a tray with kitchen roll. Spread the chickpeas over it on one layer and gently absorb the excess water with more kitchen roll. You want your beans to be as dry as possible to make sure you get a nice crispy finish.
Step 3:
In a bowl combine all the mixed spice ingredients and pour over the beans.
Step 4:
If you are like me and avoid doing the dishes as much as possible, line a baking tray with grease proof paper and place the chickpeas on it in a single layer. Drizzle with olive oil.
Give it a little shake to make sure that it is all covered with oil
Step 5:
Bake for 30-40 minutes until golden brown and crunchy; tossing gently as not to break the beans every 10 minutes. Use a timer! These easily burn.
Step 6:
Let the chickpeas completely cool down before eating or storing in an air tight jar.
And voilà… Bon appetit ???
Au Revoir!!  A La Prochaine!!