Mardi Gras – A French Celebration
Mardi Gras BEGAN IN FRANCE…
The celebration of Mardi Gras came to North America from France where it had been celebrated since the Middle Ages.  The origins of Mardi Gras can be traced to medieval Europe, passing through Rome and Venice in the 17th and 18th centuries to the French House of the Bourbons.
With this French influence we can compare our celebrations to those of modern day Paris and smaller villages across France.
Below Mardi Gras in Nice, France
For us in the United States, the actual founding of Mardi Gras was in 1702:
 In 1702 French-Canadian explorer Jean Baptiste Le Moyne Sieur de Bienville established "Fort Louis de la Louisiane" (which is now Mobile). In 1703, the tiny settlement of Fort Louis de la Mobile celebrated America's very first Mardi Gras. Though most people associate Mardi Gras with New Orleans, LA–Mobile, AL began holding the festival in 1703, 15 years before it started in Louisiana.  It grew into a stronger and stronger tradition even into the 1800's
Mardi–Gras and Carnival represent a festive season in France which refers to eating richer, fatty foods before the ritual fasting of the Lent, accompanied with sumptuous public celebrations or parades (les carnavals) which take place in many French towns and schools.
Even Claude Monet found inspiration in the Mardi Gras Carnival in Paris      Carnaval boulevard des Capucines, 1873
By Claude Monet – The Yorck Project: 10.000 Meisterwerke der Malerei. DVD-ROM, 2002. ISBN 3936122202. Distributed by DIRECTMEDIA Publishing GmbH., Public Domain, https://commons.wikimedia.org/w/index.php?curid=155837There are traditions associated with Mardi Gras. 
 Traditions of Mardi Gras in France and here in the United States are very similar, such as…..
  the wearing of masks, throwing trinkets and beads from the floats in the parades and a reigning King and Queen….
The Wearing Of Masks     
Masks are an integral part of Mardi Gras culture. During early Mardi Gras celebrations hundreds of years ago, masks were a way for their wearers to escape social constraints and social demands. Mask wearers could mingle with people of all different classes and could be whomever they desired, at least for a few days.
In New Orleans LA, float riders are required by law to have a mask on.
On Fat Tuesday, masking is legal for all Mardi Gras attendees – 
The term "Fat Tuesday", refers to the practice of the

last night

of eating richer, fatty foods

before the ritual fasting

of the Lenten season, which begins on Ash Wednesday.  Fat Tuesday in French refers to Mardi Gras!
  Villages and smaller towns still revel in age old Mardi Gras traditions like donning costumes, feasting and singing.  One of the few remaining big city carnivals, the Nice Carnival, is one of the most exciting events of the year in Nice. The parade is colorful and jolly, and flowers are either used to bombard the passing floats, or people use them to stage mock flower fights  
  OR flowers are thrown into the crowd  by individuals on the floats!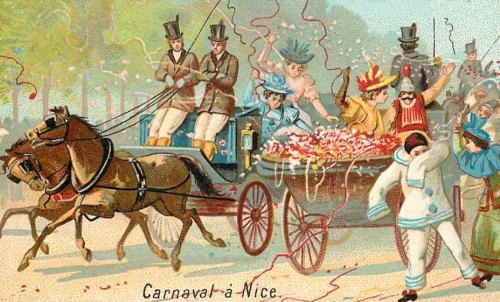 The Throwing of Beads and Trinkets
The tradition of bead throwing & the color of the beads was determined by the king of the first daytime Carnival in 1872.  He wanted the colors to be royal colors – purple for justice, gold for power and green for faith. The idea was to toss the color to the person who exhibited the color's meaning.
The beads were originally made of glass, which, as you can imagine, weren't the best for tossing.  It wasn't until the beads were made of plastic that throwing them really became a staple of Mardi Gras in New Orleans.
A King and Queen of Mardi Gras
Each year, a king and queen are selected to reign over the parade. The royal colors of purple, green, and gold are to this day the colors of Mardi Gras.
First King and Queen of Mardi Gras in Mobile, AL
And while Mardi Gras reigns strong in Mobile, Alabama and New Orleans, Louisiana there are many parades in other cities as well, such as our beautiful city of  Fairhope AL.   February 2018 !
–Elaborate Floats christen the parade route–
            Today's floats are highly detailed and vibrant in color!
    And of course, part of the glutenous food intake during this celebration is the traditional King Cake,
 which are eaten in abundance during the Mardi Gras Season!  French settlers brought Mardi Gras to New Orleans and the Louisiana territory.  The "Galette des Rois," or king cake, came too, becoming a symbol of New Orleans' and a brand of Mardi Gras.
EAT, ENJOY AND BE MERRY & HAPPY MARDI GRAS!
Au Revoir!!  A La Prochaine!!