Palissy Ware / Majolica         
'Palissy Ware' was launched in great reproduction efforts in 1849 and is a term for ceramics produced in the style of the famous French potter Bernard Palissy (1510-1590), the great French Renaissance potter, who created a style of ceramic art that reproduced three-dimensional still lifes.
Very special Palissy Style Plates are shown below –  This particular plate is decorated in relief with a lobster and shells.  And another displaying a crab.  This originated with the idea that using naturalistic scenes of plants and animals cast from life brought authenticity into the home.
Palissy copied things like the fish, frogs, lizards, & snails arranged onto large platters (wall plates, wall platters, chargers) — He copied floral and fauna found in or near Paris. He patterned the fish after those found in the Seine River and the fossil shells are easily recognized as the tertiary shells of the Paris basin. These pièces rustiques, as Palissy himself called them, were made for decorative purposes only. Palissy was the mother of what is now called Majolica.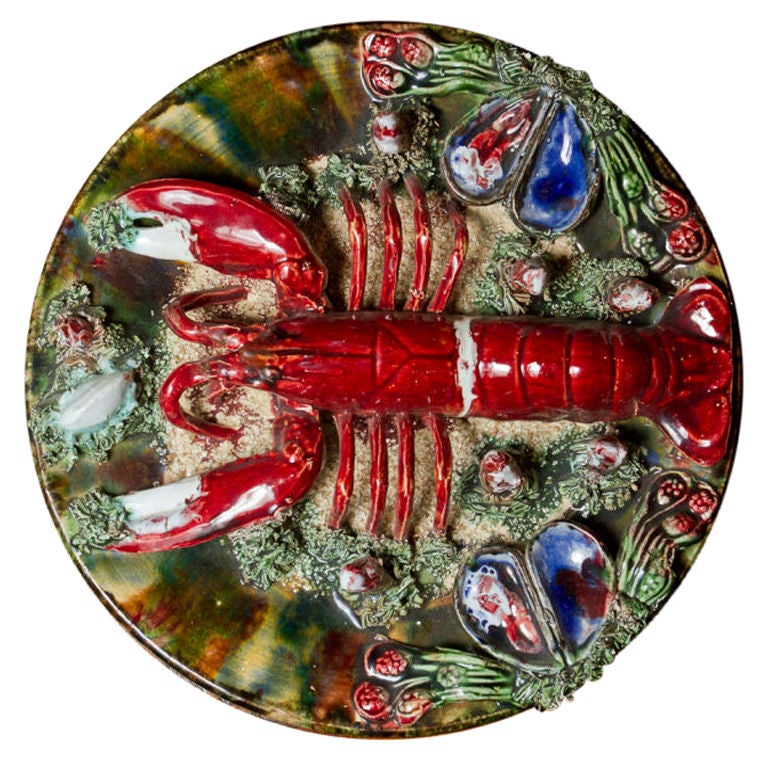 This distinctive style of pottery (Palissy) is always characterized by three-dimensional modeled, often aquatic, animals such as snakes, fish, lizards, frogs, and snails arranged onto large platters. Typically, each component is modeled and painted individually.
Nearly 250 years after Palissy's death, Charles-Jean Avisseau, also a French ceramist, rediscovered the lost secrets of Palissy which energized a revivalist movement in France and the Portuguese town of Caldas da Rainha that would last until the beginning of the twentieth century. Extensive collections of palissy ware can be found in the Louvre and the Musée de Cluny in Paris.
Majolica which is the evolution of Palissy ware is an earthenware that became very popular during the Victorian era. During this time it was very popular to set the dinner table with a tureen or plate representing the type of food (meat) that was about to be eaten.  Rabbit would be served in, for example, a rabbit tureen as the one shown directly below.
 Majolica, a name birthed from Palissy,  is distinguished by earthenware that is covered with an opaque white glaze (traditionally a lead glaze including tin), then painted with stains or glazes and fired.  Majolica may or may not carry the three dimensional detailed look as Palissy, however, that does not detract from its beauty.
Today the majolica oyster plate is still very popular.  The plate below is an outstanding example of such.
Pitchers and jugs were extremely popular.  The more life like and whimsical the more coveted the piece ** especially during the Victorian era.
A majolica asparagus plate and tureen found at Aubergine Antiques.
A large French asparagus covered tureen, hand glazed in shades of violet and green.  A trompe l'oeil effect resembling a tied bundle of fresh asparagus.
Aubergine Antiques does on occasion also carry Palissy style plates.
Books of interest on Palissy and Majolica:
Au Revoir!!  A La Prochaine!!