Mirrors are a must in any home, whether they are a Louis Philippe, a Trumeau or a simple Starburst – no home should be without at least one used as a focal point.  Sunburst mirrors or as they are sometimes called, starburst mirrors, are used because they create interest in a room due to their shape and the way they can be creatively displayed – as a single mirror, layered or in a grouping.
Origin
The sunburst as a decorative motif may have its roots that began in the medieval times revolving around religious art. During the 17th century, the Catholic church began using elaborate monstrances — decorative stands typically used to display the communion wafer — adorned with gilded rays. Churches in Italy (most famously St. Peter's Basilica in Rome) often had gilded sunbursts above the altar.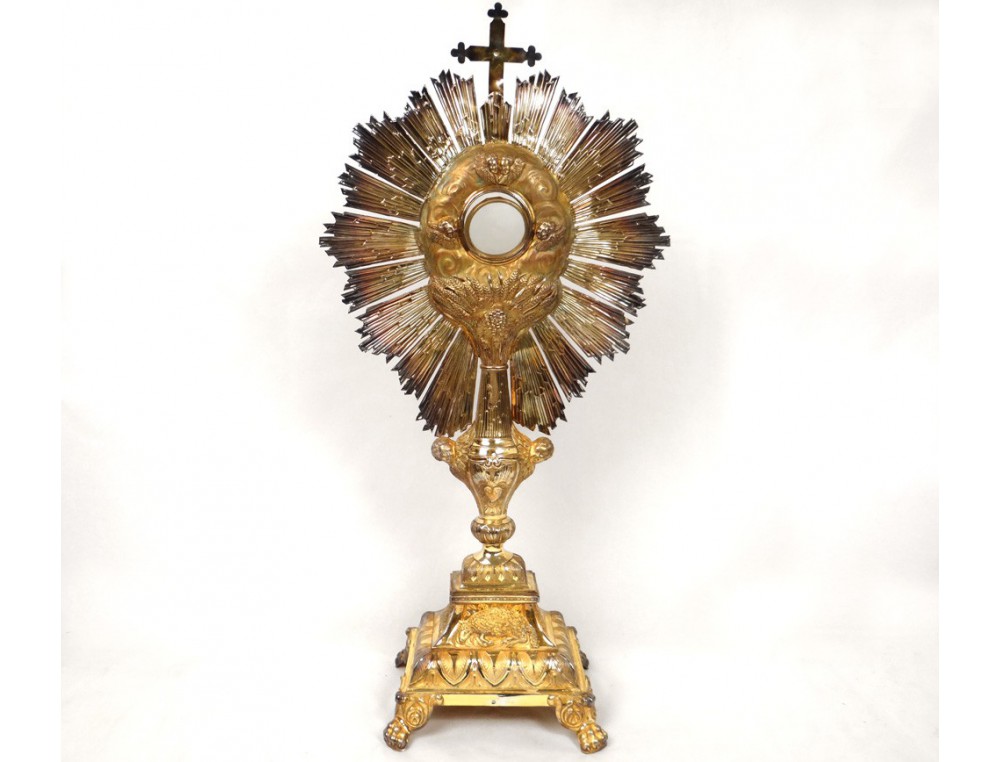 There is a rare depiction of a convex mirror with a sunburst motif in the background of the Arnolfini portrait by 15th-century painter Jan van Eyck, which shows that these mirrors have been around for quite a long time!
Early mirrors were small and convex; it wasn't until the late 17th century, when Louis XIV established his own glassworks in France, that the world saw a significant improvement in the quality and size of mirrors.
 Louis XIV
But even then, mirrors of any kind were rarities.
  This is a small sunburst found at Crown and Colony Antiques.  But, the mirror is not convex.  However, the mirror below represents a convex mirror — rare and with an additional row of sun rays giving this mirror a three dimensional look.  Because of mirrors being rare during the 17th century, a mirror of this size would have cost the equivalent of $36,000 compared to today.
The Sunburst King
Known as the Sun King, Louis XIV chose the head of Apollo surrounded by rays of light as his personal emblem. During his reign many pieces of furniture and architectural features were decorated with a sunburst (or commonly called a starburst).  The Hall of Mirrors at Versailles represents the improved methods of mirror production.
Hall of Mirrors – Versailles, France
A starburst with a convex mirror (Crown & Colony)
Starburst mirrors can be used in all rooms of the home.  A very common place to see a starburst will be above a bed as shown in the preceding picture — or in a living room on the wall-maybe even on the ceiling!
They are used to adorn panels and walls!
If you are interested in a starburst mirror, Crown and Colony carries many of the ones shown in this post, please call us 251-928-4808 to check availability.  You may also view the website https://www.crownandcolony.com -click on Mirrors
A BOOK – interesting and beautiful to look at:
Au Revoir! A La Prochaine!!