The French formal garden, also called the jardin à la française, is a style of garden based on symmetry and the principle of imposing order on nature.
The entrance to the garden begins the journey.
FIVE of the most famous and beautiful gardens in France
Monet's Garden – in Giverny France (an old province of Normandy)
The Gardens of Versailles – in Versailles France
Château de Villandry – in the Loire Valley of France – formal gardens with a maze
Jardin des Tuileries – found right in the heart of Paris – 1st arrondissment
Bagatelle Gardens – in Paris in the 16th arrondissement
This post will focus only on Versailles ' gardens – an abbreviated nod to the  importance of  gardens,  fountains and sculptures.
The Entrance to Versailles and its Gardens
Below you see the grande scale to which Versailles was envisioned circa 1789
Versailles was originally a country village with great hunting; today, however, it is a suburb of Paris, some 16 kilometers (10 miles) southwest of the French capital.
The palace was built to impress. "Versailles is a mirage, a sumptuous and theatrical entertainment. It is also a manifestation of glory and power imposed to a great extent by art, luxury, and magnificence."
The Garden of Versailles is spread across 1,976 acres, and is one of the biggest gardens in the world. 210,000 flowers and 200,000 trees are planted annually in The Garden of Versailles. In 1979, the gardens along with the château were inscribed on the UNESCO World Heritage List.
It is the most acclaimed example of formal French garden design, and is famous for its geometrically aligned terraces, tree-lined paths, ponds and canals.
The palace….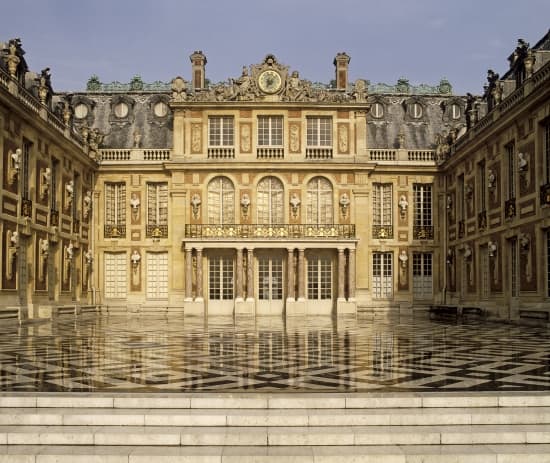 was chock full of paintings and sculptures, ornately designed rooms.  As well, Louis XIV attached a supreme importance to water effects.   He wanted fountains within a series of gardens, created in a formal style, that contained sculptures as well as pressurized fountains capable of launching water high into the air.
The marvel of the gardens of Versailles – then as now – is the fountains. It has 50 spectacular fountains with 620 jets, which were installed to entertain the guests. A lot of these fountains still use the same hydraulics network, which was built by the Royal Family.
Fountains at Versailles are elaborate, well working for the 1600's and very large in scale as seen below.
THEN…
NOW…
 RF Antiques carries French imported stone fountains in all shapes and sizes.  You can incorporate one of our fountains into your home landscape, to provide a water feature that creates a soothing atmosphere and brings much beauty just as King Louis XIV wanted for Versailles — but, on a less grand scale!
Fountains are significant at Versailles, but so are garden statues.  At RF Antiques we find that they can stand alone or live side by side very easily.
Statues can be used as pool surrounds, but they do not have to shoot water in order to bring interest and beauty to the area.  French imported statues such as the ones we offer at RF Antiques, are very often used in the garden and introduce French formality and interest.
Below are closeup views of some of the statues we carry – very similar to the gold ones above & below found in fountains at Versailles.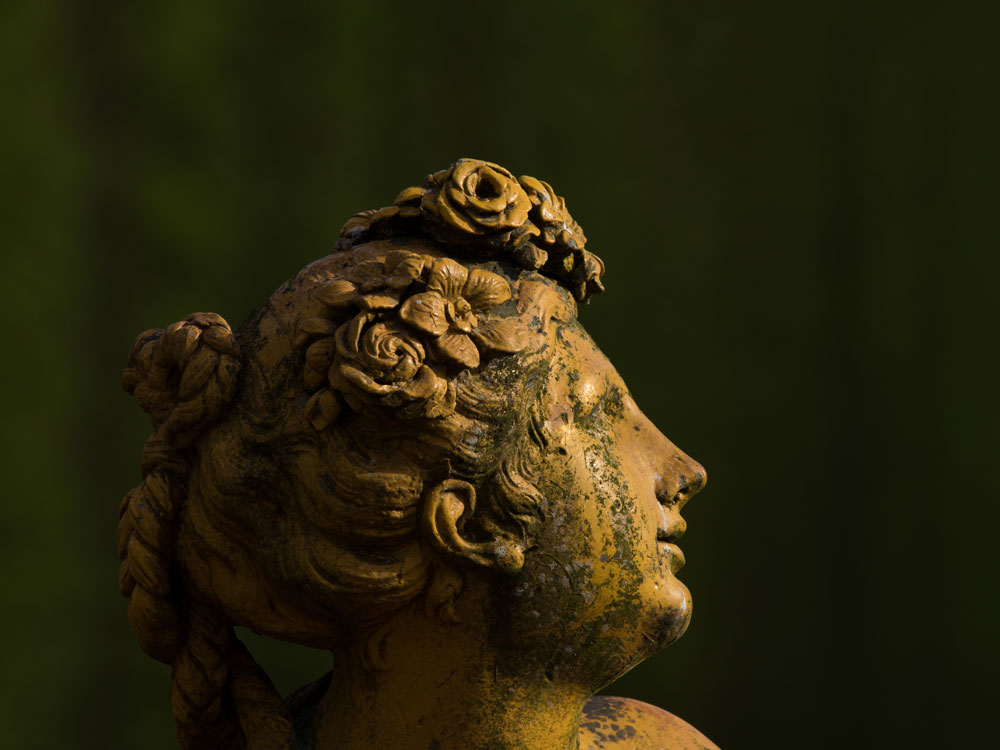 Below, one of the Four Seasons Fountains at Versailles
RF Antiques, our antique garden and architectural shop  carries French sculptures depicting the Four Seasons, as well as, other statues, Greek Olive jars (all of which can be made into a water feature), French Olive jars and Anduze pots –fabulously received around a pool or in the garden area.
Greek Olive Jar and Anduze Pot
Anduze Pots in various sizes which are great for plantings – in particular orange and kumquat trees (shrubs).
French Olive jars & garden statue
The grounds of Versailles contain an orangerie, a large edifice for cultivating trees and protecting them during the winter.
The orangerie has large windows, a vaulted ceiling and covers nearly 7.5 acres. Orange trees from Portugal, Spain and Italy, lemon trees, oleander, palm and pomegranate trees, some more than 200 years old, are all housed in the Orangery during the winter and spread out across the gardens in summer.
The gardens at Versailles are lined with trees planted in boxes. The boxes were created for Louis the XIV's orange tree collection by Andre Le Notre, the original designer of the Versailles Gardens.
 But, while the boxes are special to Versailles it is noted that many of the French use other type vessels for their trees as well:  such as, Anduze Pots and the French and Greek Olive Jars.
picture from la-belle-vie.tumblr.com
Any of these beautifully shaped vessels would enhance the garden area.  And, now that spring and summer are upon us it's a good time to be thinking about updating and enhancing your garden and pool area.
 Gardens of Versailles
While you see the wild flowers blooming as nature dictates you can also see the parallel alignment with the structure and order of the hedges, sculptured trees and flowers contained in urns.  Hence the importance of maintaining the formal order of the garden.
The bushes within the Versailles gardens are a perfect example of trying to "tame" nature and carefully adorned with statues that are used as water features.
Beautifully sculpted garden urn filled with sculpted flowers adorns a pedestal in Versailles (seen below), and is quite similar to what we carry at our antique garden shop.
Garden urns in the best of French design are found in our outdoor courtyard.
These planters would look wonderful atop a pedestal (which we also carry) filled with flowers, ferns and ivy left to drape down the side.
Call us if you are interested in our fountains, garden statues, French or Greek Olive jars or Anduze pots. We can ship anywhere in the United States  251-928-8336
To see more of our selection https://www.crownandcolony.com and click on FOUNTAINS or GARDEN ANTIQUES
We have fountains in all different shapes, styles and sizes and a large selection of jars/vessels found under Garden Antiques.
A good read
The Sun King's Garden : Louis XIV, Andre Le Notre and the Creation of the Gardens of Versailles
Au Revoir!  A La Prochaine!!
Pictures are my own and others are from http://indeeddecor.com Pinterest photos  and from Emmanuel Lattes of national geographic