PAPIER MACHE
Papier-Mache From Victorian Days Is Back In Demand
Papier-mâché  is French for "chewed paper".   That's because – you guessed it – it was originally made from chewed up paper. A technique which first started in 1745 in France.  Papier-mâché is also made of ripped or mashed paper and bound with an adhesive, like glue or paste. Highly pliable when it is wet and very hard when it is dry, it is essentially a method of using paper to produce durable three-dimensional objects. As the technique gained popularity in the 18th century in all of Europe, the term papier-mache stuck.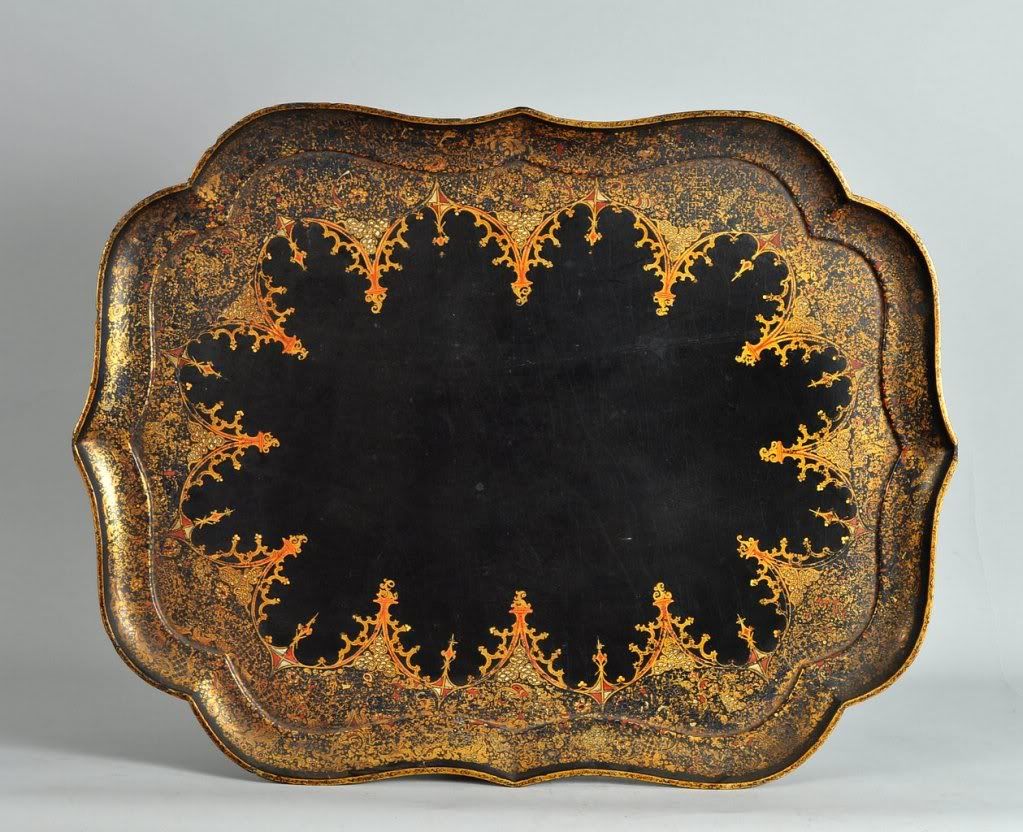 The longest of any monarch to reign in British history was that of Queen Victoria (1837-1901).  This era came to be known as the Victorian era. During her reign papier mache was very coveted.  The Victorians were huge papier-mâché fans, because the material could be molded into all sorts of elaborate shapes and ornaments. Queen Victoria herself received a decorative set of papier-mâché trays as a wedding present in 1840.
This papier- mache snuff box displays a picture of Queen Victoria herself.
 The Victorians prided themselves in going above and beyond the simple French accessories and began exploring using papier mache for larger pieces of usable furniture.  This chair is a fine example of that trend which occurred around 1851.  It is hand painted with flowers and gold leaf.
Also popular for furniture were writing desks and trays used on stands.
Papier mache was quite popular during this Victorian period, BUT it was French craftsmen who first recognized the great potential of Papier Mache, making, trays, letter holders, cups and snuff boxes.  Its popularity in France was during the 17th century before the Victorian era making France the first European country in Europe to use papier mache.
Nearly always the characteristic black, but occasionally in red or green, the pieces were very ornately decorated with flowers, birds and patterns – frequently embellished in gold. Some of the finer pieces were inlaid with shimmering mother-of-pearl shell as seen in the picture below.
Many of these wonderful boxes and a generous supply of trays, both on the large and small scale, can be found at Crown and Colony Antiques.  Call us for additional information.
 Crown and Colony Antiques 251-928-4808
Small ornate papier mache tray also with mother of pearl in-lay.
Today, papier-mache is almost always associated with small objects like: boxes, plates, ornaments.  Furniture and the like no longer function for today's needs and are not used for everyday use.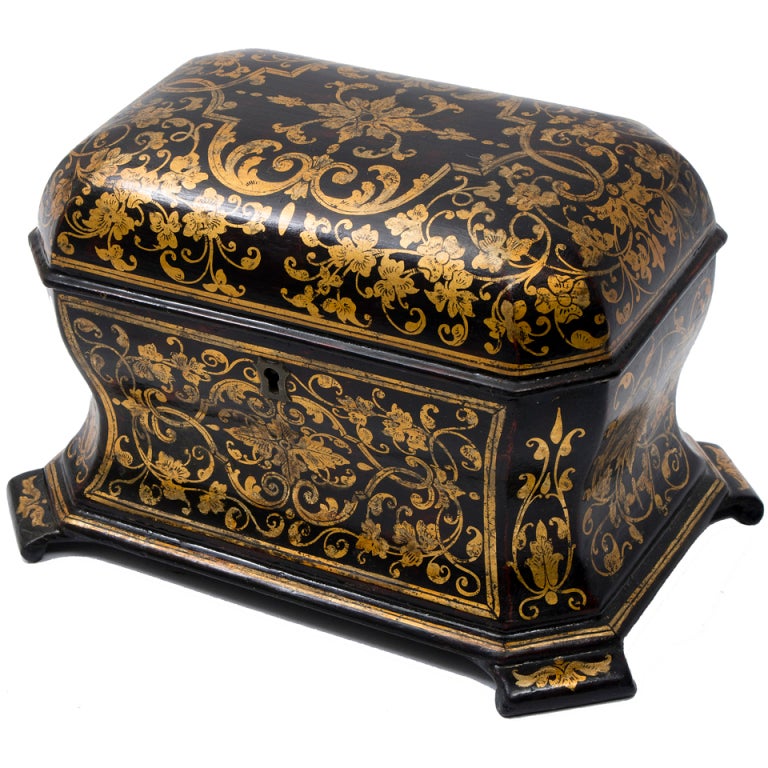 Below -An Antique French Papier Mache crumb tray with lacqured birds and florals c.1880-1890
Papier Mache – a treasure that can still be found today in the best of condition due to its durability.
SHOP NOW
Au Revoir!  A La Prochaine!!